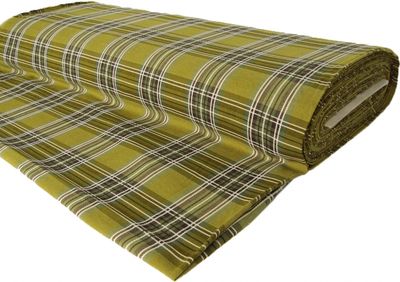 Squares and stripes
Here you will find our wide range of fabrics with squares and stripes!
Squares and stripes are the two most classic patterns we have on fabric. It is patterns that through the ages have been made in the simplest of all weaves, by varying the color of the warp and weft. Today, the gems have access to both printed fabrics in all patterns and woven fabrics with advanced design, but the squares and stripes remain. They are timeless favorites who never go out of fashion.
Squares and stripes are timeless, stylish and work in all modes. Striped and checkered shirts, blouses, pants and pajamas are garments that survive all the vibrations in fashion. From the big fashion houses to the retail chains we see stripes and squares at both women's, men's and children's collections. Even in home decor, stripes and squares are constant favorites.
We have both thread-colored and printed stripes and squares on a variety of fabrics in varied materials and coats. Here you will find everything you need for both clothing and furnishings. If you are looking for a fabric for a pair of nice long curtains, we have plenty to choose from. Do you want to sew pillows, bags or clothes.
Our classic kitchen squares makes lovely tablecloths and curtains. And the beautiful striped Norwich, Harlow and Oxford with 35,000 martindale, will be a nice change for your furniture.
We have squares and stripes for all sewing projects. Decorate your home with nice stripes and squares, or sew timeless clothes for the whole family. Who knows? A pair of striped curtains that you sew today maybe your granddaughter will reappear in 40 years. And maybe that checkered dress will be used again!
Welcome to find your favorites among stripes and squares. There are many to choose from!